Friends in my previous article we learn that as a result of air pollution, we breathe various air toxics knowingly or unknowingly almost every day. In this part, we will dive further into their sources and their effect on human health.
Sources That Pollute Our Air
A) AUTOMOBILES:
In the late 1960s and early 1970s, concerns about air pollution caused by automobiles were growing. Vehicle emissions, particularly nitrogen oxides (NOx), carbon monoxide (CO), hydrocarbons (HC), and particulate matter(PM), were identified as major contributors to air pollution and its detrimental effects on human health and the environment.
In response to these concerns, engineers and scientists developed the catalytic converter — a device designed to reduce harmful emissions from vehicles. The catalytic converter works by using catalysts, typically composed of platinum, palladium, and rhodium, to facilitate chemical reactions that convert toxic pollutants into less harmful substances.
"[h]ighway vehicles release about 1.7 billion tons (1.5 billion metric tons) of greenhouse gases (GHGs) into the atmosphere each year — mostly in the form of carbon dioxide (CO2) — contributing to global climate change. Each gallon of gasoline you burn creates 20 pounds (9 kilograms) of GHG. That's roughly 6 to 9 tons (5 to 8 metric tons) of GHG each year for a typical vehicle."

The U.S. Department of Energy,
When exposed to intense sunlight, certain hydrocarbons, and nitrogen oxides can undergo chemical reactions in the atmosphere, transforming into "photochemical" pollutants with oxidizing properties.
(B) INDUSTRIES :
Industries have consistently taken center stage in discussions concerning the origins of air pollution.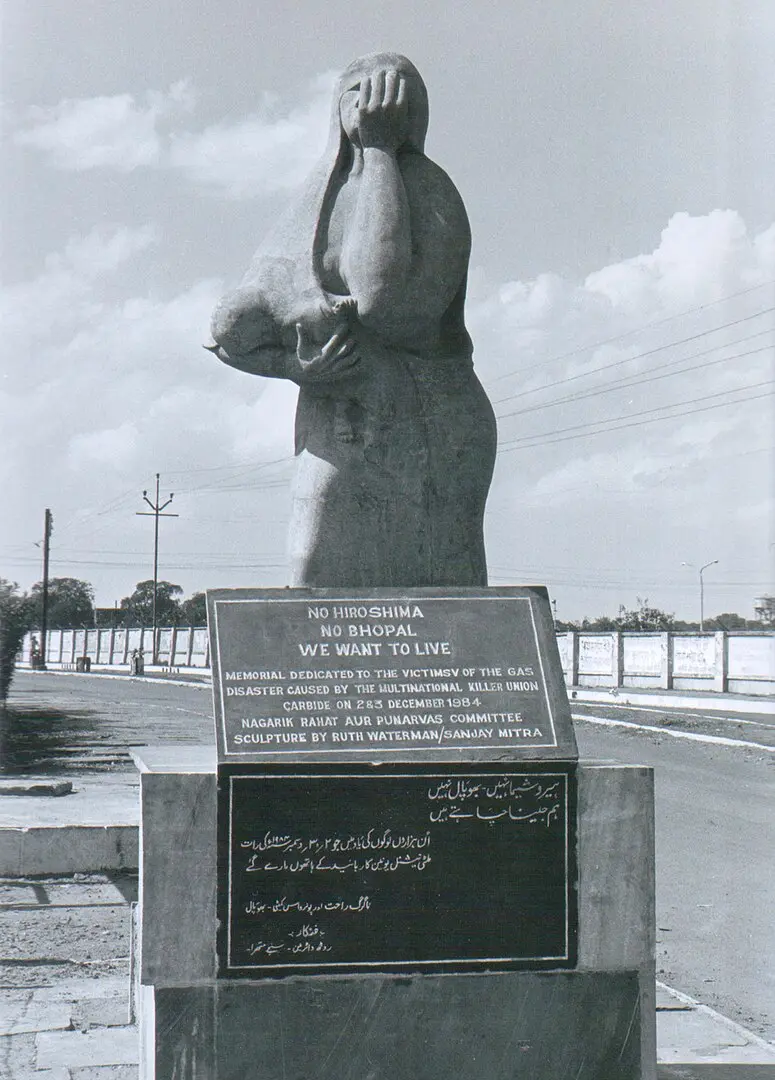 On the night of December 2, 1984, a catastrophic incident occurred at the Union Carbide India Limited (UCIL) pesticide plant in Bhopal. Due to a combination of factors including inadequate safety measures, human error, and equipment malfunction, a highly toxic gas called methyl isocyanate (MIC) was released into the surrounding atmosphere.
The combustion of fuels for heat and power generation results in the emission of smoke, sulfur dioxide, nitrogen oxides, and fly ash. Petrochemical industries contribute to air pollution by releasing hydrogen fluoride, hydrochloric acid, and organic halides. Additionally, many industries discharge pollutants such as carbon monoxide, carbon dioxide, ozone, hydrogen sulfide, and sulfur dioxide.
(C) DOMESTIC SOURCES
When we talk about where air pollution comes from, we also need to consider domestic sources. Domestic sources of air pollution refer to activities that happen in and around our homes. These can include burning wood or fossil fuels for heating, cooking, or lighting, using certain chemicals or cleaning products that release pollutants into the air, and even smoking tobacco.
Knowing household sources of Air pollution helps us to contribute to reducing such sources as much as possible.
(D) PASSIVE SMOKING
The most direct and important source of air pollution affecting the health of many people is tobacco smoke. Even those who do not smoke may inhale the smoke produced by others ("passive smoking").
(E) MISCELLANEOUS
These comprise burning refuse, incinerators, pesticide spraying, natural sources (e.g., wind-borne dust, fungi, molds, bacteria), and nuclear energy programs.
In agricultural areas of developing countries, there are around 3 million people passed through the horrible experience of pesticide poisoning every year. In India alone, it is believed to cause at least 22,000 deaths annually. Serious illness and even deaths are not uncommon in the state of Kerala where significant numbers of people are exposed to a toxic pesticide called endosulfan. Shockingly, the use of this pesticide continued for 15 years after the tragic events of Bhopal.
The Impact of Air Pollution on Human Health
Major air pollutants, their sources, and health effects
Noxious Agents
Sources
Health Effects
Lead
Automobile exhaust
using leaded gasoline
Impaired neuropsychological
development in children
Oxides of Nitrogen
Automobile exhaust;
gas stoves and heaters, wood-burning stoves; kerosene space heaters
Respiratory tract irritation,-
bronchial hyperactivity, impaired lung defenses, bronchiolitis obliterans
Hydrocarbons
Automobile exhaust, cigarette smoke
Lung cancer
Sulfur
dioxide
Power plants, Smelter, oil refineries, kerosene , space heaters
Exacerbation of asthma and COPD, respiratory tract irritation, hospitalization
maybe necessary and death may occur in severe exposure
Sulfur
dioxide
Automobile exhaust, high altitude: Aircraft cabins
Cough, substernal discomfort, bronchoconstriction, decreased exercise performance, respiratory tract irritation
Major air pollutants, their sources, and health effects
Exposure to air pollution has been associated with a wide range of health effects, affecting various systems within the human body.
The severity of these effects can vary depending on factors such as the duration and intensity of exposure, individual susceptibility, and the specific pollutants involved. Let's explore some of the significant health consequences associated with air pollution:
1. Respiratory Disorders
Air pollution poses a significant risk to our respiratory system. The inhalation of pollutants, especially fine particulate matter (PM2.5) and toxic gases can lead to respiratory disorders such as:
Asthma: Air pollution triggers and exacerbates asthma symptoms, causing wheezing, coughing, and shortness of breath. Long-term exposure may increase the likelihood of developing asthma in susceptible individuals.
Chronic Obstructive Pulmonary Disease (COPD): Prolonged exposure to pollutants like nitrogen dioxide and particulate matter can contribute to the development and progression of COPD, a chronic inflammatory lung disease that obstructs airflow and impairs breathing.
Respiratory Infections: Polluted air weakens the respiratory system's defenses, making individuals more susceptible to respiratory infections, including pneumonia and bronchitis.
2. Cardiovascular Diseases
Air pollution has been linked to an increased risk of various cardiovascular conditions, including:
Heart Disease: Long-term exposure to fine particulate matter (PM2.5) and gaseous pollutants can contribute to the development of heart diseases, such as coronary artery disease and heart attacks. The pollutants trigger inflammation, disrupt blood vessel function, and promote the formation of blood clots.
Stroke: Studies have shown a correlation between exposure to air pollution and an elevated risk of stroke. The inflammatory response triggered by pollutants can lead to the formation of blood clots or cause the narrowing of blood vessels in the brain, increasing the likelihood of a stroke.
3. Adverse Pregnancy Outcomes
Air pollution can have detrimental effects on pregnant women and their unborn babies. Exposure to pollutants has been associated with:
Preterm Birth: Pregnant women exposed to high levels of air pollution, particularly fine particulate matter (PM2.5), are at an increased risk of giving birth prematurely. Preterm birth can lead to various complications and long-term health issues for the baby.
Low Birth Weight: Air pollution has also been linked to low birth weight in newborns. Intrauterine exposure to pollutants can disrupt fetal growth and development, potentially affecting the baby's health later in life.
INDIA
4. Developmental Abnormality in Children
Impaired neuropsychological development in children and Neurobehavioral abnormalities like impaired associate learning, motor speed, and precision has also been reported in studies.
5. Cancer
Several studies have shown that long-term exposure to air pollution is associated with an elevated risk of lung cancer, which is the most common type of cancer-related to air pollution. Additionally, air pollution has been linked to an increased risk of other cancers, including bladder cancer, breast cancer, and certain types of leukemia.
The harmful components of air pollution, such as fine particles (particulate matter), volatile organic compounds (VOCs), and toxic gases like benzene, can damage our DNA and disrupt cellular processes, potentially leading to the development of cancerous cells.
How to Combat Air Pollution?
While the fight against air pollution requires collective efforts on a broader scale, there are three steps that can be taken to reduce their exposure and safeguard their health:
Action at the Individual level
Community Involvement
Air Quality Monitoring and Regulations
1. Action at the Individual level
Stay Informed: Keep track of local air quality reports and pay attention to pollution alerts. Stay indoors or limit outdoor activities during times when pollution levels are high.
Create Clean Indoor Environments: Improve indoor air quality by using air purifiers, ensuring proper ventilation, and minimizing the use of pollutants indoors, such as tobacco smoke and harmful cleaning products.
Use Protective Measures: When outdoor air quality is poor, consider wearing respiratory masks that offer effective filtration against particulate matter.
Choose Active Transportation: Opt for walking, cycling, or using public transportation whenever possible to reduce personal vehicle emissions.
Support Cleaner Energy Sources: Advocate for clean energy alternatives, such as solar and wind power, and encourage policymakers to implement stricter environmental regulations.
2. Community Involvement
1. Transitioning to Clean Energy Sources
One of the most effective ways to reduce air pollution is to shift towards clean energy sources. By embracing renewable energy options such as solar, wind, and hydroelectric power, we can significantly decrease our reliance on fossil fuels. Encouraging the adoption of these sustainable alternatives through government incentives and policy changes can accelerate the transition to a cleaner and healthier energy landscape.
2. Enhancing Public Transportation
Promoting the use of public transportation systems can help reduce the number of vehicles on the road, consequently decreasing air pollution levels. Investing in efficient and accessible public transportation infrastructure, including buses, trams, and trains, encourages individuals to opt for these eco-friendly modes of transportation. Additionally, supporting initiatives that prioritize electric or hybrid vehicles in public transportation fleets can further contribute to cleaner air quality.
3. Encouraging Sustainable Urban Planning
Well-planned cities can significantly minimize pollution levels by optimizing transportation networks, preserving green spaces, and promoting pedestrian and cycling-friendly infrastructure. By designing urban areas that prioritize accessibility, sustainability, and efficient land use, we can create environments that encourage active transportation, reduce traffic congestion, and ultimately improve air quality.
4. Raising Awareness and Education
Education and awareness initiatives are crucial in inspiring individuals to take action and make conscious choices to protect air quality. By educating the public about the health risks associated with air pollution and providing practical tips to minimize personal exposure, we can empower people to make informed decisions for their well-being. Collaborating with schools, community organizations, and media outlets can amplify the message and encourage widespread participation in air quality improvement efforts.
3. Air Quality Monitoring and Regulations
Monitoring systems play a crucial role in identifying pollution sources, evaluating the effectiveness of pollution control measures, and providing real-time information to the public. Here are some key aspects of air quality monitoring:
Air Quality Monitoring Major Cities India PM2.5
AQI, Air Pollution Level, and Its Effect PM2.5.

AQI

Air Pollution
Level

Active children and adults, and people with respiratory diseases, such as asthma, should limit prolonged outdoor exertion.

Cautionary Statement (for PM2.5

0 – 50

Good

Air quality is considered satisfactory, and air pollution poses little or no risk

None

51-100

Moderate

Air quality is acceptable; however, for some pollutants there may be a moderate health concern for a very small number of people who are unusually sensitive to air pollution.

Air quality is acceptable; however, for some pollutants, there may be a moderate health concern for a very small number of people who are unusually sensitive to air pollution.

101-150

Unhealthy for
Sensitive
Groups

Members of sensitive groups may experience health effects. The general public is not likely to be
affected.

Active children and adults, and people with respiratory diseases, such as asthma, should limit prolonged outdoor
exertion.

151-200

Unhealthy

Everyone may begin to experience health effects; members of sensitive groups may experience more serious health effects

Active children and adults, and people with respiratory disease, such as asthma, should avoid prolonged outdoor exertion; everyone else, especially children, should limit prolonged outdoor exertion

201-300

Very Unhealthy

Health warnings of emergency conditions. The entire population is more likely to be affected.

Active children and adults, and people with respiratory diseases, such as asthma, should avoid prolonged outdoor exertion; everyone else, especially children, should limit prolonged outdoor exertion

300+

Hazardous

Health alert: everyone may experience more serious health effects

Everyone should avoid all outdoor exertion
AQI, Air pollution Level and its effect PM2.5.
1. Ambient Air Monitoring
Ambient air monitoring involves the systematic collection of air samples from various locations to measure pollutant concentrations. This data helps assess the overall air quality in different regions, identify pollution hotspots, and determine compliance with air quality standards.
2. Indoor Air Quality Assessment
Indoor air quality is equally important as we spend a significant amount of time indoors. Conducting indoor air quality assessments helps identify potential sources of pollution and implement measures to improve indoor air quality, thereby safeguarding the health of occupants.
3. Remote Sensing and Satellite Monitoring
Remote sensing and satellite monitoring technologies provide a broader perspective on air quality by measuring pollutant concentrations on a larger scale. This information aids in understanding pollution patterns, identifying pollution sources, and supporting decision-making processes related to environmental policies and regulations.
4. Citizen Science and Mobile Applications
Engaging citizens in monitoring air quality through citizen science initiatives and mobile applications can significantly contribute to data collection efforts. People can utilize portable air quality monitoring devices and smartphone applications to measure pollution levels in their surroundings. This crowd-sourced data provides valuable insights into localized air quality conditions and empowers individuals to make informed choices about their daily activities and routes.
5. Implementing Strict Emission Standards
Stringent regulations on industrial emissions and vehicle exhaust can play a vital role in reducing air pollution. Governments and regulatory bodies must enforce and regularly update emission standards to ensure that industries and vehicles comply with environmentally friendly practices. By embracing cleaner technologies and adopting emission control measures, we can limit the release of harmful pollutants into the atmosphere.
6. Supporting Research and Innovation
Investing in research and development of innovative solutions is key to addressing the complex challenges posed by air pollution. By supporting scientific studies, technological advancements, and interdisciplinary collaborations, we can discover new methods to combat pollution effectively. From the development of advanced air filtration systems to the exploration of sustainable energy alternatives, research, and innovation pave the way for a cleaner and healthier future.
7. Industry Collaboration and Innovation
Industries have a responsibility to minimize their environmental footprint and adopt sustainable practices. Collaboration between businesses, research institutions, and government bodies can drive innovation and develop cleaner technologies. Investing in research and development of pollution control measures, optimizing production processes, and implementing efficient waste management practices can help industries minimize their contribution to air pollution.
International Cooperation
Air pollution knows no boundaries, and addressing this global issue requires international cooperation. Countries can share best practices, collaborate on research projects, and establish agreements to combat transboundary pollution. By working together, nations can develop comprehensive strategies to reduce pollution levels and protect the health and well-being of people worldwide.
It is crucial that we recognize the significance of a clean and healthy environment for our overall well-being. By taking responsibility for our actions and implementing measures to mitigate pollution, we can ensure a safer and healthier future for ourselves and generations to come.
FAQs On Air Pollution
WHAT IS AIR POLLUTION?
Air pollution refers to the presence of harmful substances in the air that can negatively impact the environment and human health. When we talk about air pollution, we are referring to the contamination of the air we breathe with various pollutants.
These pollutants can come from both natural and human-made sources. Natural sources include volcanic eruptions, dust storms, and wildfires, while human-made sources include industrial emissions, vehicle exhaust, the burning of fossil fuels, and the release of chemicals and pollutants from factories and power plants.
The pollutants in the air can take different forms, such as gases, particles, or toxic chemicals. Common air pollutants include carbon monoxide, nitrogen dioxide, sulfur dioxide, ozone, particulate matter, and volatile organic compounds.
Air pollution has significant consequences for the environment and human health. It can contribute to climate change, damage ecosystems, harm wildlife, and reduce agricultural productivity. When it comes to human health, air pollution can cause respiratory problems, cardiovascular diseases, allergies, and even lead to an increased risk of certain cancers.
Monitoring and reducing air pollution are crucial for protecting both the environment and human well-being. Governments, organizations, and individuals can take steps to reduce air pollution by promoting cleaner energy sources, improving industrial processes, implementing emission controls, and adopting sustainable transportation options. Additionally, individuals can contribute by conserving energy, reducing vehicle emissions, and supporting policies that aim to improve air quality.
By understanding what air pollution is and its impacts, we can work together to address this global issue and create a cleaner and healthier environment for everyone.
WHY IS IT SO IMPORTANT TO SOLVE AIR POLLUTION?
Here are some key reasons why addressing air pollution is crucial:
Protecting Human Health: Air pollution poses significant risks to human health, particularly respiratory and cardiovascular systems. Prolonged exposure to polluted air can lead to respiratory diseases, asthma, lung cancer, heart problems, and even premature death. By solving air pollution, we can safeguard the well-being and longevity of individuals, ensuring healthier lives for present and future generations.
Environmental Preservation: Air pollution not only affects human health but also harms the environment. Pollutants released into the air contribute to climate change, global warming, and the depletion of the ozone layer. These environmental changes have far-reaching consequences, including rising temperatures, extreme weather events, and the loss of biodiversity. By addressing air pollution, we can mitigate these impacts and work towards preserving our planet for future generations.
Enhancing Air Quality: Clean air is essential for maintaining a high quality of life. Addressing air pollution means improving the air we breathe, ensuring it is free from harmful pollutants. Clean air promotes better respiratory function, reduces the risk of diseases, and enhances overall well-being. It also creates a more pleasant and comfortable living environment for everyone.
Sustainable Development: Air pollution has economic implications as well. It can hinder economic growth, impact productivity, and increase healthcare costs. By tackling air pollution, we can promote sustainable development by creating cleaner and more efficient industries, encouraging the use of renewable energy sources, and fostering innovation in pollution control technologies. Clean air is not only beneficial for human health but also for the long-term prosperity of societies.
HOW LONG HAS AIR POLLUTION BEEN A PROBLEM?
Air pollution has been a concern for a significant period of time, although its severity and awareness have varied throughout history. The roots of air pollution can be traced back to early human activities, such as burning wood and other materials for cooking and heating, which released smoke and pollutants into the air.
However, it was during the Industrial Revolution in the 18th and 19th centuries that air pollution became a widespread issue. The rapid growth of industries, particularly factories powered by coal, led to the release of substantial amounts of pollutants into the air. The burning of coal for energy and the emissions from industrial processes resulted in the formation of dense smog in urban areas, causing health problems and environmental degradation.
In response to the visible impacts of air pollution, efforts were made to address specific pollution problems in certain regions. For instance, the infamous London smog events, such as the Great Smog of 1952, prompted the implementation of regulations to control emissions and improve air quality.
Since the mid-20th century, air pollution has gained increased recognition as a global problem. The formation of environmental movements and the establishment of regulatory frameworks and international agreements, such as the Clean Air Act in the United States and the United Nations Framework Convention on Climate Change (UNFCCC), have contributed to raising awareness and tackling air pollution on a larger scale.
In recent decades, advancements in science and technology have provided more accurate monitoring methods to assess air pollution levels and identify its impacts on human health and the environment. This knowledge has further highlighted the urgent need to address air pollution comprehensively.
While significant progress has been made in certain regions to reduce air pollution, it remains an ongoing challenge globally. The continued reliance on fossil fuels, industrial activities, increasing urbanization, and transportation emissions contribute to the persistence of air pollution as a pressing issue.
WHERE DOES AIR POLLUTION COME FROM?
Air pollution can come from various sources, including industrial emissions, vehicle exhaust, residential and commercial activities, agricultural practices, natural events like dust storms and wildfires, and waste burning.
IS AIR POLLUTION MAINLY A LOCAL PROBLEM OR CAN IT TRAVEL LONG DISTANCES?
Air pollution is not limited to local areas and can travel long distances. While some sources of pollution have a more localized impact, such as emissions from nearby industries or traffic, air pollutants can be carried by wind currents and spread over large distances. This means that pollution generated in one region can affect the air quality in other areas, even hundreds or thousands of miles away. Pollutants can travel through the atmosphere, crossing borders and continents, and impact both nearby communities and those far from the original source of pollution. Therefore, addressing air pollution requires not only local efforts but also regional and international cooperation to effectively mitigate its harmful effects.
HOW DOES AIR POLLUTION AFFECT HUMAN HEALTH?
Air pollution has significant effects on human health. Inhalation of polluted air can lead to respiratory problems, such as asthma, bronchitis, and lung cancer. It can also worsen existing conditions like allergies and respiratory infections. Long-term exposure to air pollution is associated with cardiovascular diseases, decreased lung function, and even premature death.
HOW DOES AIR POLLUTION AFFECT CHILDRENS' HEALTH?
Children are particularly vulnerable to the health impacts of air pollution. Their developing organs and immune systems make them more susceptible to respiratory illnesses. Exposure to polluted air can hinder lung development, cause asthma, impair cognitive function, and increase the risk of infections and allergies in children.
IS THERE A SAFE LEVEL OF AIR POLLUTION TO PROTECT YOUR HEALTH?
There is no safe level of air pollution for protecting health. Even low levels of pollutants can have adverse effects, especially with prolonged exposure. It is crucial to strive for the cleanest air possible to safeguard our health and well-being. However, to help guide countries to achieve cleaner air for health, the WHO has set normative guideline values for all major air pollutants.
WHAT EFFECT DOES AIR POLLUTION HAVE ON FOOD, CROPS, FORESTS, AND BIODIVERSITY?
Air pollution can negatively impact food production, crops, forests, and biodiversity. Pollutants can deposit onto plants, soil, and water, affecting their growth and quality. Acidic pollutants from air pollution can damage forests, harm aquatic ecosystems, and contribute to the decline of biodiversity.
HOW DO WILDFIRES CONTRIBUTE TO AIR POLLUTION?
Wildfires contribute to air pollution by releasing large amounts of smoke, ash, and pollutants into the atmosphere. The burning of vegetation and forests emits harmful gases and particulate matter, affecting air quality and posing health risks to nearby communities. Wildfire smoke can travel long distances, impacting air quality in distant areas.
HOW DO I KNOW THE LEVEL OF THE POLLUTION PROBLEM IN MY COMMUNITY?
Monitoring air quality in your community can provide valuable information about the pollution problem. Local environmental agencies, government bodies, or online platforms often provide air quality indexes and real-time data on pollutant levels in different areas.
IS ACID RAIN AIR POLLUTION?
Acid rain is a form of air pollution. It occurs when pollutants like sulfur dioxide and nitrogen oxides react with water vapor in the atmosphere, forming acids that fall as rain, snow, or fog. Acid rain can harm ecosystems, damage buildings, and affect water bodies.
CAN AIR POLLUTION IMPACT WATER QUALITY?
Yes, air pollution can indirectly affect water quality. Pollutants can deposit onto water bodies and contribute to the acidification of lakes, rivers, and oceans. Acid rain, resulting from air pollution, can also impact water bodies and aquatic ecosystems.
HOW DOES AIR POLLUTION AFFECT INDOOR AIR QUALITY?
Indoor air pollution can be caused by various factors, including tobacco smoke, cooking and heating appliances, building materials, and household products. Poor indoor air quality can lead to respiratory problems, allergies, and other health issues.
WHAT ACTIONS CAN GOVERNMENTS TAKE TO IMPROVE AIR QUALITY?
Governments can take various actions to improve air quality. These include implementing and enforcing air pollution regulations, promoting cleaner energy sources, encouraging sustainable transportation, supporting research and innovation in pollution control technologies, and fostering international collaborations to address transboundary pollution.
WHAT ARE THE ECONOMIC COSTS OF AIR POLLUTION?
Air pollution imposes significant economic costs on societies, including healthcare expenses, loss of productivity due to illness, damage to crops and vegetation, and the need for pollution control measures. These costs can have far-reaching impacts on economies and overall well-being.
HOW ARE AIR POLLUTION AND CLIMATE CHANGE CONNECTED?
Air pollution and climate change are interconnected issues. Many air pollutants, such as carbon dioxide, methane, and black carbon, also contribute to global warming and climate change. Addressing air pollution can have co-benefits in mitigating climate change and vice versa.
HAS AIR POLLUTION BEEN SOLVED IN ANY PLACE?
Air pollution has been successfully addressed in several places. For instance, cities like Tokyo and London have implemented effective measures to reduce pollution levels. Strict regulations, technological advancements, and public awareness have played key roles in improving air quality in these regions.
WHAT IS THE ROLE OF AIR QUALITY MONITORING IN AIR QUALITY MANAGEMENT?
Air quality monitoring plays a vital role in managing air pollution. It involves the systematic measurement and assessment of pollutant levels in the atmosphere. Monitoring helps identify pollution sources, evaluate the effectiveness of control measures, and provide data for decision-making and public awareness.
WHAT CAN I DO TO IMPROVE AIR QUALITY IN MY COMMUNITY?
Individuals can contribute to improving air quality in their communities. Some actions include reducing vehicle use by carpooling or using public transportation, conserving energy at home, choosing eco-friendly products, planting trees and creating green spaces, and supporting initiatives that promote cleaner air and sustainable practices.
WHY IS REGIONAL COOPERATION CRUCIAL FOR MANAGING AIR POLLUTION?
Regional cooperation is crucial for managing air pollution since pollution does not respect borders. By working together, countries can share knowledge, exchange best practices, establish emission reduction targets, and implement coordinated strategies to tackle shared air pollution challenges effectively.
WHAT ACTIONS CAN BUSINESSES AND INDUSTRIES TAKE TO REDUCE AIR POLLUTION?
Businesses and industries can take several actions to reduce air pollution. These include adopting cleaner production methods, investing in pollution control technologies, promoting energy efficiency, using renewable energy sources, minimizing waste generation, and implementing sustainable practices throughout the supply chain.
HOW IS AIR POLLUTION CONNECTED TO SUSTAINABLE DEVELOPMENT?
Air pollution is closely linked to sustainable development. Clean air is essential for human health, environmental well-being, and economic prosperity. By addressing air pollution, we can create sustainable communities, protect ecosystems, and promote a healthier and more sustainable future for all.
IS CLEAN AIR A HUMAN RIGHT?
Clean air is considered a fundamental human right. Breathing clean and unpolluted air is necessary for the well-being and health of individuals and communities. Governments and societies have a responsibility to protect and ensure the right to clean air for everyone.
WHAT IS THE LINK BETWEEN AIR POLLUTION AND COVID-19 OUTCOME?
Poor air quality can worsen health outcomes from respiratory illnesses, including COVID-19. Exposure to air pollution can weaken the respiratory system, making individuals more vulnerable to respiratory infections. Research suggests a link between air pollution and increased severity and mortality rates of respiratory diseases like COVID-19.